Important Dates

Submission:

Nov. 4, 2019

Conference:

Dec. 16-18, 2019

Notification:

20-40 days after the submission

Publication:

15-20 days after the final edition
More Conferences
Contact Information

Email:

conference123net@126.com

Cell Phone:

0086-18101720867

Telephone:

021-51098086

WeChat:

18101720867
2019 5th International Conference on Electrical Engineering and Information Engineering (ICEEIE2019) has been successfully held at Four Points By Sheraton Hangzhou Binjiang (杭州龙禧福朋喜来登酒店) during Dec. 16-18, 2019.
Four Points By Sheraton Hangzhou Binjiang is located in the exciting new hi-tech development zone, close to major international corporate offices and popular tourist spots. The hotel offer easy access to highway, downtown, city attractions, and the airport as well - everything you need is within a 20-30 minutes' drive. The hotel has 350 guestrooms which can provide you a comfortable stay. Recreation facilities include a fitness centre and heated indoor pool. In line with today's busy lifestyle, Four Points By Sheraton Hangzhou Binjiang will give you a relaxed and comfortable business or vacation trip.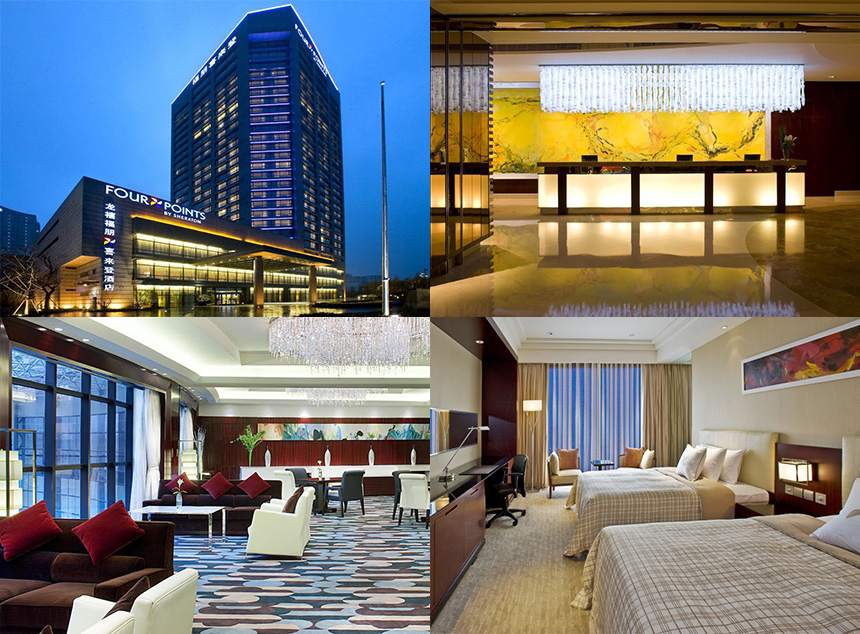 Hotel address: No. 868 Dongxin Avenue, Binjiang District, Hangzhou, Zhejiang, China
The following is the hotel negotiated rate for participants:
Negotiated Rate for Participants
| | |
| --- | --- |
| Types | Negotiated Rate |
| Traditional Twin Rooms (Double Beds with Two Breakfast) | About 90 USD/Room/Night |
| Traditional King Room (Single Bed with One/Two Breakfast) | About 90 USD/Room/Night |
If you need to book the hotel room with the negotiated rate, please contact the Organizing Committee directly:
Cell Phone: 0086 - 18101720867; Email: conference123net@126.com
To know more about the hotel, you can download the PDF by clicking the following link: Four_Points_by_Sheraton_Hangzhou_Binjiang.pdf
Venue
Tourism in Hangzhou
Hangzhou (杭州), the capital city of Zhejiang Province, is the political, economic, cultural and financial center of Zhejiang Province. It is famous for the beautiful scenery, enjoying the reputation of "There is paradise in heaven and there are Suzhou and Hangzhou on earth." There are many scenic spots in Hangzhou, such as West Lake(西湖), Lingyin Temple(灵隐寺) and Su Causeway(苏堤).
Here is the planned tourism route (8:30AM to 17:00PM):
West Lake(西湖--- Lingyin Temple (灵隐寺) --- Su Causeway (苏堤) --- Ten Scenes of West Lake (Viewing Fish at Flower Harbor) (西湖十景之花港观鱼) --- Leifeng Pagoda (雷峰塔)
West Lake(西湖)
West Lake (Figure 1) is like a brilliant pearl embedded in the beautiful and fertile shores of the East China Sea near the mouth of the Hangzhou Bay. Over the centuries, the beauty and culture of West Lake has attracted numerous literati, who left behind works of literature and poetry to describe the lake. For example, Dream in West Lake and The Enchiridion of Lake and Mountain recorded a lot about West Lake and ancient Hangzhou historic anecdotes. Nowadays, West Lake still offers many attractions for tourists at home and abroad.

Figure 1: West Lake
Lingyin Temple(灵隐寺)
Located at the north-west of the West Lake at Hangzhou, Lingyin Temple (Figure 2) is one of the oldest and ancient Buddhist temples in China. It contains numerous pagodas and Budddhist grottoes. As one of the largest temples in Wulin Mountain in Hangzhou, Lingyin Temple attracts thousands of visitors and Buddhist because of its long history and charming scenery.

Figure 2: Lingyin Temple
Sudi(苏堤)
Su Causeway (Figure 3) is the longest series of bridges crossing over Hangzhou's West Lake. In Northern Song Dynasty (1090), the famous poet Su Dongpo was then the governor of Hangzhou, he built the causeway to connect the West Lake. In memory of this famous poet, this causeway was later named after him as the "Su Causeway". It consists of six simple yet beautiful bridges and the embankments along the way are all landscaped with trees and flowers.

Figure 3: Sudi
Viewing Fish at Flower Harbor(花港观鱼)
As one of top ten attractions at West Lake, Viewing Fish at Flower Harbor (Figure 4) features the flower harbor plus red carps, peony flowers, a big lawn and dense woods. The history of Viewing Fish at Flower Harbor can be dated to the Southern Song Dynasty (1127-1279). Back then, the government official Lu Yunsheng built a private garden at the foot of Flower Hill (Huajia Hill). He dug a pond, and raised various fish in it. The garden was first called Lu Garden, and then became known as Flower Harbor. Later, Ma Yuan, a great painter of the Southern Song Dynasty, depicted the scene when he created the Ten Paintings of West Lake. From then on, the beautiful scene has been known as "Viewing Fish at Flower Harbor".

Figure 4: Viewing Fish at Flower Harbor
Leifeng Pagoda(雷峰塔)
Leifeng Pagoda (Figure 5) (雷峰塔, Léi Fēng Tǎ) is a five-story tower with eight sides, located on Sunset Hill south of the West Lake. It was originally constructed in the year AD 975. Leifeng Pagoda was one of the ten sights of the West Lake because of the Legend of the White Snake, which was a romantic love story in ancient times between Xu Xian and the "White Lady" or "White Maiden" (白娘子, Bái Niángzǐ), they fell in love with each other to break though the laws of nature.

Figure 5: Leifeng Pagoda